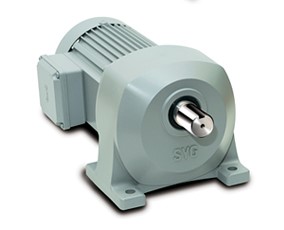 SAMYANG MAX II as all parts are standardized and made into half-finished goods and so inventory is secured, all required parts are quickly assembled and supplied without new design under any requirements of users.
As such newest precision machines as shaving and grinding were introduced for manufacturing, high trust is kept for high precision and high efficiency.
Goods are compact by handling design material in computer, and have low noise and light weight and deliver high load due
to special heat treatment and tooth form grinding.
Product Specification

Model
No.

#88 ~ #172

Power

0.2kW ~ 3.7kW (1/4HP ~ 5HP)

Reduction
gear ratio

1/5 ~ 1/200

Product
type

Horizontal(Horizontal Type)
Vertical(Vertical Type)
Line Power
Main Features
Wide range of Reduction gear ratio up to 1/200 in a single case
Can replace the existing GEARED MOTOR : installation size is shared
Long lifetime is assured by the previous grease lubrication method
Strong geared motor : Optimal case is chosen depending on torque and carburized gear making use of the AGMA safety factor is used