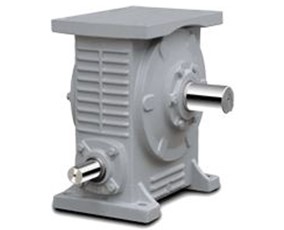 SAMYANG this is a reduction gear for stage that drives lifting and lowering of such structures as stage curtain or lightings.
Product Specification

Main Use

For stage

Form

Worm reduction gear

Power

1.4kW ~ 30kW

Model
No.

88, 96, 120, 125, 140, 155, 175

Reduction gear ratio

1/10, 1/15, 1/20, 1/30, 1/40, 1/50, 1/60
Main Features

Quiet operation

As this is used in a performance hall, there should not be noise.

Integration

As this is installed in a small space, this should be small sized and light weight but, at the same time, have sufficient Power capacity.

Flexibility

Shafts should come out in one or both directions, and the length should be adjusted arbitrarily, and mutual direct connection should be possible between reduction gears.

Motor installation head

Motor should be installed on the reduction gear to maximize the spatial efficiency.